The Christian Education Committee is offering four classes for the 2019 Fall Schedule.
Please review the class descriptions, and come join us!
"Show me your ways, Lord, teach me your paths." —Psalm 25:4.
Parables Bible Study
Dates: Thursdays, September 5 thru October 10th
Time: 7:00 to 8:30 pm
Place: Fireside Room
Teacher: Rev. Barbara Haddon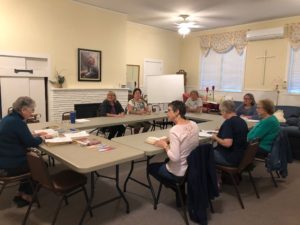 This six-weeks-long Bible study will, in Rev. Haddon's words, look at the "backside" of the parables, seeking meaning from Jesus's stories about commonplace happenings of the day. The six parables that will be discussed are the Parables of the Wedding Feast, the Vineyard, the Unjust Judge, the Talents, the Good Samaritan, and the Prodigal Son. Drop-ins are welcome!
Puzzling Faith Questions Forum
Dates: Mondays, September 16th, October 21st & November 18th
Time: 6:30 to 8:00 pm
Place: Library
Teacher: Patti Sprinkle
A monthly discussion forum that will enjoy lively and respectful discussions based on participants' unique faith questions. Those interested in the class are asked to bring faith questions they've always wanted to ask but didn't. No question is refused. Patti hopes participants in the forum will take a question–either their own or someone else's–and research it for group discussion. Drop-ins are welcome!
How Do You Spell P-r-e-s-b-y-t-e-r-i-a-n?
Dates: Thursdays, October 24th thru November 21st
Time: 7:00 to 8:30 pm
Place: Fireside Room
Teacher: Pastor Richmond Murray
This class will explore issues such as how being a Presbyterian differs from other religions, and what is the church's future in a rapidly changing society? Lifelong Presbyterians will find the class a thought-provoking review of our past and a new insight into where we are headed. To others interested in learning what it means to be a Presbyterian, our discussions will be a solid starting point. Sign ups will begin in early October.
The Paintings of Advent
Dates: Wednesdays, December 4th, 11th, and 18th
Time: 5:15 to 6:15 pm, with dinner following until 7:00 pm
Place: Fellowship Hall
Teacher: Pastor Richmond Murray
This is a three-week study of famous paintings that depict certain aspects of Advent. A mixture of art history and Bible study to help us prepare our hearts for Christmas morning. A dinner will immediately follow each class adjourning at 7:00 pm. Sign ups will begin in November.